This is a true story of trash to treasure. It was trash day and as I was out walking Tinker and Pumpkin, I saw this lovely chair next to the trash cans across the street. Now, in our city, they won't take anything that isn't in the trashcan itself. So it was fate! This patio chair was meant for me! I've painted lots of furniture, but this was a bit of an experiment to see if I could paint Plastic, PVC. So I dragged it home and decided to use paints I already had and see what happened. I'll let you know how it holds up!

Treasure After
Trashy Before
This is the patio chair after I scrubbed it with cleanser and a scrub brush. My before picture doesn't show all the grunge that was on it.I figured the paint would stick because the surface was so rough from years of being in the sun. Don't a lot of us have those pvc patio chairs? They don't look so great after a few years, but they're still usable and they won't break down in a landfill for a zillion years.
The seat part was especially rough, but that's what allowed it to hold the paint well.
Next, I got out the supplies. I already had this orange exterior paint in a semi-gloss finish. It was made from a Ralph Lauren paint chip called 'Bitter Orange'. I love the shade of this! Do they even have Ralph Lauren paint anymore? Anyways, I set up and started painting.
Painting chairs is deceptive! All those evil slats and pieces have four surfaces to paint. Also, you constantly have to watch for and clean up drips. I added a smaller brush to reach some of the parts better. I was a mess...
Here is it after the first coat of latex paint. Not bad, but it needed another coat after it dried overnight. I left it outside and hoped that it wouldn't be too damp that night. Where I live gets pretty soggy since it's so close to the ocean.
Find me sharing at these blogs....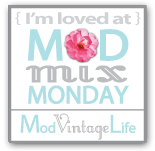 Under the Table and Dreaming
Not Just A Housewife
ReDoux